Ahh, Friday is finally here! For once, our slate is pretty clean for the weekend so I'm open to the possibility of playdates! (I must be nuts to have a clean slate and then want to fill it up, right?) I don't have a whole lot of news to share, other than this funny tidbit from last night...
Scott and I had put Angelica down to bed for the evening...he left to go running and I was working on a project when all of a sudden I hear her yell, "Raaawwwwwr!!!" Mind you, our house is small but surprisingly soundproof, and we were at opposite ends of the house. So I ran in her room, and she was laying in bed, looking almost asleep. I asked her, "Did you just rawr, Angelica?" She nodded. I asked, "Why did you rawr?" She replied: "I wanted a kiss, Mommy!"
I somehow remember doing stuff like that when I was a kid. It's like her version of the "one more glass of water!" trick. I had to laugh.
Anyway, I'm doing a 5 Question Friday post today just for fun!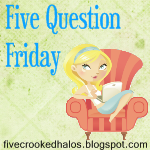 1.
What do you listen to while driving?
My iPod is always, always, always with me. Lately I've been listening to a lot of motivational speaking, but I took a break yesterday to listen to The Rocket Summer. And then when I picked up Angelica, I got my evening dose of Laurie Berkner. This week's choice is The Farm Song...which is great because I was kind of tired of the two months we spent stuck on Rocketship Run. :)
2.
What is your least favorite thing about Fall?
Fall is BY FAR my favorite season, but if I had to pick one? Fall allergies. Also -- I LOVE having all my doors and windows open and I was so looking forward to doing that in the new house we're renting...except that there is a forest behind our house. With raccoons. And I heard a ruckus in my dining room the other night and, lo and behold, there was a raccoon digging into the cat food. So now that door has to stay shut.
3.
What does your dream house look like, inside and out?
My dream house would be a house that I own. I'm not too picky about what it would look like, other than that it wouldn't be a fixer-upper. I just want to have a home to call my own! We've been renting and renting our whole adult lives and now we're working on the Dave Ramsey plan to eliminate debt and eventually save up for our down payment.
4.
Would you ever own a minivan?
My first car was a minivan. When I was 16 I was driving around town in one of those huge, extended Dodge Caravans. A 1987 one. It was almost 10 years old at that point...a hand me down from my parents. And I appreciated the heck out of that thing. I would not own another one though. If memory serves me right, my old van got me about 18 miles to the gallon. I'm all about the fuel economy and that just won't cut it for me!
5.
Do you wash new clothes before wearing them?
Nope, unless I think it's a dark color that might rub off on me. Otherwise it goes in the closet, tags and all. Unless it's underwear. I know stores don't let you try on underwear but it still skeeves me out to think that they were just sitting out on the shelf.