At Christmas, I entered a TON of blog giveaways to win Christmas gifts for Angelica. She was thrilled with the stuff I won and was so excited to open her presents on Christmas day.
Well, her birthday is right around the corner. In fact, it's only a month away! I can hardly believe my baby girl is going to be THREE. And I've been making the rounds again, trying to win some awesome prizes for Angelica for her birthday.
(Normally, today I'd have my giveaway linky up but last night was CRAAAAAZY and I didn't have time to get it written and timed and ready to go so...it'll be back next week.)
Here's a few that I've entered so far:
The Life of Rylie...and Bryce Too!
has an AWESOME
Dora the Explorer Bath Time Buildable Playset
Mega Bloks giveaway running! Now, you can enter it if you want...but just know that I already plan to win. :) We are HUGE Dora fans in our house, so this would be a great gift for her birthday!
Thanks, Mail Carrier
has TWO great giveaways that I've entered!
1 -
Little Looster
. I NEED this for our bathroom. Right now we're renting a tiny, one bathroom house. And the bathroom is TINY. And Angelica's footstool is always in the way. The Little Looster acts as an extension of your toilet so your little one can still get on the potty...but the big kids and grownups don't trip! I NEED one of these!
2 -
Kids Chair World $100 gift certificate
giveaway. Angelica could use a reading chair. She has a PBK chair which she uses in the living room, but it would be nice to set up a little reading nook for her. These chairs are adorable and the perfect size for her!
3 - And, of course, the DREAM ITEM: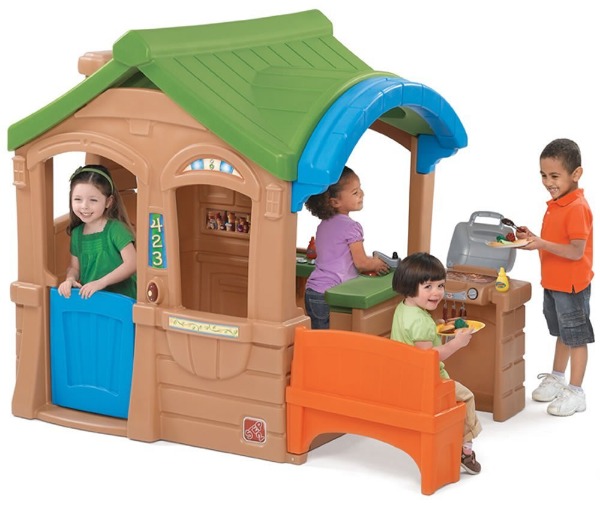 MomSpotted is giving away a
Gather and Grille Playhouse
by
Step2
. This would be the PERFECT addition to our back yard, and would be a fantastic birthday gift for Angelica.
So help me out here! Are you running a giveaway for something Angelica might love? Just comment with a link and I'll go enter!